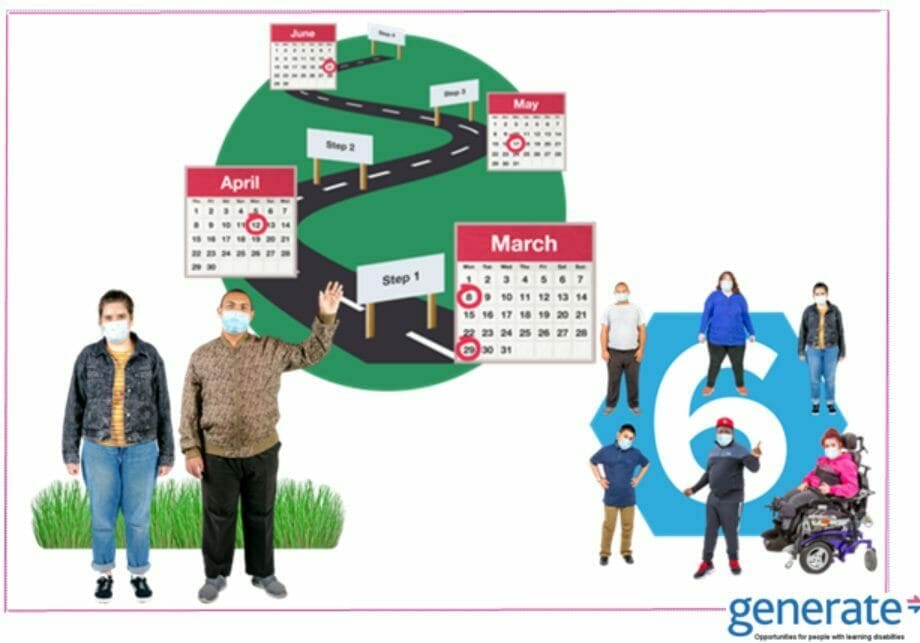 April 2021 has been an important month for us all; it has marked the beginning of the end of an almost year-long lockdown. After months of waiting and readjusting our lives, it seems like a slight element of normality is slowly coming back. Whilst the easing of lockdown is welcome, it makes us question what the new normal will be like. After months of following by strict rules and restrictions, our members discussed what it will be like getting used to getting out of lockdown. For some of the members of the Generate Voices Forum, routine and stability are important aspects to their lives, so dealing with a new element of change can produce new challenges.
Luis said that he felt relieved that the restrictions have started to ease, and that he is excited for life to soon go back to normal. Terry agreed, saying that he was fed up of the restrictions and that he wanted to go back to volunteering and enjoying his passion for trains. Yet, Terry also said that he was holding back his excitement, he worries about too much opening too soon. Kerry-Louise agreed, explaining how the easing of lockdown made her anxious. Kerry-Louise explained that her anxiety stems from Covid-19 still being present, it has not disappeared yet and so she worries about the virus spreading again once everything opens. She continued that we have to stay vigilant and that she found it mad that everything was reopening when there were still cases of people catching Covid-19. Luis said he had the same concerns as Kerry-Louise, saying how if easing lockdown was rushed then something might go wrong and another lockdown would be placed. Terry said that he understood Luis' and Kerry-Louise's worries, but that we need to ease lockdown restrictions so that the economy can keep going to build up businesses revenues.
Some Generate Voices members also agreed that the vaccine would help with cases and keeping another lockdown at bay. Luis said the more vaccines meant a greater chance of coming out of the lockdown. For Kerry-Louise she said didn't fully understand the impact of the vaccine, which made her feel even more anxious about the decision to ease lockdown. Terry reassured her saying that the best thing to do is not to panic at all, to "keep calm and learn from it". Terry is optimistic, saying that we are finally getting ahead of the virus and that we can beat it, if we stay sensible and follow the remaining rules. Michelle said that life won't be the same as what we were used to, which is true. However, Terry concluded the meeting saying that is not necessarily a bad thing, and that it's time to celebrate new beginnings. Terry is right, whilst the lockdown has been difficult for everyone, the easing of the lockdown is a good sign that the worst is behind us.
If you enjoyed the discussion that members had in our Generate Voices meeting then please come along to our next meeting, to share your experiences!